Located on beautiful Jensens Bay on the inlet side of the Esowista Peninsula, only 5 minute walk to Chesterman Beach. Your Tofino vacation rental home away from home !
Relax in the hot tub or the wood fired sauna and enjoy a spectacular view of Jensens Bay & Clayoquot Sound. This beautiful 1 acre rainforest waterfront lot is located right on Jensen's Bay. This 3 bedroom vacation rental home offers en-suite bathrooms and all the comforts of home for up to 6 guests.
NOT available for "Special Events" (Weddings, Receptions, Parties, Stags, Stag(ettes), Reunions etc.) – see our
Rental Policies
---
Full Kitchen
3 bedroom Cedar Vacation Rental Home with en-suite bathroom
Spacious living room and kitchen facilities
Full wrap around deck and cedar boardwalk
Queen Size Beds
Hot Tub (Hot tub towels provided. Please bring your own beach towels)
Sauna (wood fired)
Wireless Internet
Cable TV/DVD
Barbecue
Not available for "Special Events" – see our Rental Policies
District of Tofino Licence # – 0113
Location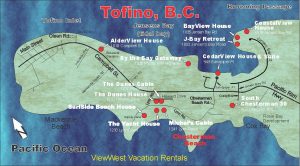 949 Sandpiper Place, Tofino, BC
Get directions here using Google Maps
---
If you have any difficulties with your Online Booking, please call us to book toll-free at 1-888-448-4141
A 50% deposit is taken at the time of booking. The full balance is due 30 days prior to your arrival date.
If your reservation is within 30 days of your arrival date the full amount is due when booking.
Please review our Rental Policies prior to booking. A $175.00 cleaning fee will apply to all reservations.
We accept Visa and MasterCard.All Pages


Book the CedarView House
---
CHECK AVAILABILITY AT ALL OF OUR RENTAL HOMES
---
---
GUEST REVIEWS
Average rating:
9 reviews
Apr 15, 2017
Beautiful property and beautiful setting - love the boardwalks to the hot tub and sauna, and the view from the main living space can't be beat. Well appointed kitchen - could use a bread knife, but we found one of the blades from the carving knife fit the bill. Overall, great weekend away - thanks!
Sep 27, 2016
Beautiful home and beautiful location!We had a great experience renting from this company, great customer service! I definitely recommend this rental! Wish I stayed longer!!
Aug 29, 2016
A magical week for our family of five from the UK at this lovely house, just a short walk from Chesterman beach and a few minutes drive from the centre of Tofino. Everything was exactly as described, clean and well presented. Very well equipped and lots of hot water for showering before and after the beach. Loved the deck and grill, fire pit and of course the hot tub - views from the hot tub are awesome especially at sunset. Highly recommended.
Mar 31, 2016
A very well stocked house and suite in a beautiful setting. Our family from Ontario, Alberta and BC couldn't have asked for a nicer place to get together. The house and suite was perfect, everyone had their own space. The setting is beyond spectacular, and the hot tub and sauna amazing! Tofino and Ucuelet are both beautiful spots to visit, and this home just made it better than ever! We will be returning for sure! Thank you for your wonderful home!
Mar 31, 2016
Second time renting this vacation home! Really is a great vacation rental, great layout, amazing views, and very adequately equipped. Would never hesitate to stay here again.
Jul 17, 2015
Highly Recommended!
Beyond the amazing beauty that surrounds this property, the people behind these homes and fishing charter really made this experience incredible for our family. The communication was fantastic and we felt like they knew us on a personal level before we even arrived. Very gracious and accommodating to any request we had. The property hosted our group of 10 plus baby no problem and even our other four legged furry family members got to come! I would highly recommend chartering with Chris on his boat which is very safe and accommodated 5 of us on very successful fishing trips 3 out of our 5 days there. He even customized a day for our group to allow hot springs and fishing which pleased the entire group. The house itself was comfortable, spotless, and the craftsmanship and attention to detail truly shows the passion they have in making your Tofino experience memorable.
Jun 17, 2014
D&T with K&B at cedar view house
We had a great time, cedar view house is well set up for prairie people, big trees around the fire pit, bay view from the hot tub. House was great. Nice to have an ensuite with each bedroom. The place is very clean and comfortable. We chartered Chris to take us out on the water for a great day of touring, crabbing and fishing.
Jun 5, 2014
What a great find!
This home was even better than we hoped it would be. Fantastic views out the back and especially by the hot tub. Chesterman Beach was an easy 5-minute walk, and it was about a 5-minute drive into Tofino. We thoroughly enjoyed our stay!
Jan 7, 2014
Beautiful!
I recently stayed here with my husband, baby, parents, two dogs, and sister and brother-in-law. There was ample space for all of us! The kitchen is well stocked and the beds were comfortable. The surrounding area is gorgeous and my parents, who are birdwatchers, really loved going down to the little patio next to the hot tub that overlooks the mudflats: this is ideal shorebird habitat. It was also fabulous to be right across the street from Chesterman Beach! We would absolutely stay here again. Oh, and the surprise delivery of the freshest salmon I've ever eaten from Chris was very welcome!