A Luxury custom built Tofino vacation rental home on the waterfront with panoramic views of Jensen's Bay and only minutes from the surf of Chesterman Beach.
This beautiful Tofino vacation rental home features 3 spacious bedrooms all with ensuite bathrooms. There are 2 king size and 1 queen size bed each with a walk in shower and the master bedroom comes with a soaker tub. After a day on the beach, unwind in the private hot tub or relax in the wood fired sauna or join your friends and family around the fire pit for an open fire on the waterfront. This spacious, comfortable home will be a luxury retreat for your home away from home visit to Tofino.
NOT available for "Special Events" (Weddings, Receptions, Parties, Stags, Stag(ettes), Reunions etc.) – see our Rental Policies
---
3 bedroom cedar vacation home (2 king and 2 queen)
3 bathrooms (en-suite)
Sleeps 6 guests
2 gas fireplaces
BBQ
Cedar decks and boardwalk to the sauna, hot tub and fire pit
Cable TV in living room, kitchen and all 3 bedrooms
Wireless Internet
Hot tub, sauna and fire pit (Hot tub towels provided. Please bring your own beach towels)
Full kitchen
1 acre forested lot on the waterfront (Jensen's Bay)
Outdoor shower
Stunning views of Jensen`s Bay
Watersport equipment for guest use. (Paddleboards and Kayaks) Click here for more info
Tofino Tide Tables (printable version)
Not available for "Special Events" – see our Rental Policies
District of Tofino Licence # – 0114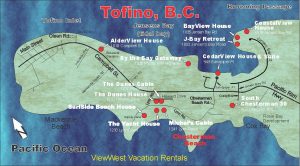 Location1035 Jensen's Bay Road, Tofino, BC
Get directions here using Google Maps
---
If you have any difficulties with your Online Booking, please call us to book toll-free at 1-888-448-4141
A 50% deposit is taken at the time of booking. The full balance is due 30 days prior to your arrival date.
If your reservation is within 30 days of your arrival date the full amount is due when booking.
Please review our Rental Policies prior to booking. A $225.00 cleaning fee will apply to all reservations.
We accept Visa and MasterCard.


Book the BayView House
---
CHECK AVAILABILITY AT ALL OF OUR RENTAL HOMES
---
---
GUEST REVIEWS
Average rating:
14 reviews
Jan 6, 2017
Bay View House was the amazing setting for our Christmas holiday this year. Everything was perfect for 7 adults wanting family time as well as some private space to relax.The owners offered speedy, thorough and pleasant responses to our questions about the property.The bedrooms consisted of two rooms with kings beds and two rooms with queens beds, private bathrooms and televisions in each.The kitchen was fully equipped, hot tub was easy to operate with sliding lid for easy use. Beautiful views, pool table and large televisions and fireplaces on each floor allowed for a great time to play games and watch traditional movies. There was a handy laundry room and pantry just off the kitchen. We also used the sauna and fire pit and walked and surfed the best beaches just a few blocks away.Being close to Tofino we enjoyed local restaurants, particularly the Wolf in the Fog, and shopped in the quaint shops. For most of our holiday meal we used the house kitchen and BBQ for all our main meals including turkey and all the trimmings.This vacation was a great success, and we look forward to returning any chance we get.
Jul 15, 2016
Bayview is one of the most beautiful homes we've ever stayed in! We loved being close to town, but just enough away to enjoy the calm and peaceful setting of Jensens Bay. The view from the top floor looking out on to the water is one of the best views in Tofino. Coming back from a day of surfing to a hot tub looking out over the bay was a nice way to spend the evening warming up. We also loved the cedar sauna that's built right beside it.One of our favorite parts of the stay was being able to take out paddle boards or kayaks to explore the Bay. It's one of the most incredible ways to enjoy the view while being right on the water.Each room in the house has its own ensuite bathroom with big windows facing out to the trees and the ocean. The kitchen was fully equipped and had a great BBQ on the deck.Booking with View West was a great experience. They were prompt with replies and so helpful with our questions and inquiries. We will definitely be booking with them again for our trip next year. Thanks for such a great holiday!
May 19, 2016
Fantastic, as always!!! This is our second time staying at Bayview and each time is wonderful. The hot tub and kayaks were put to good use and enjoyed. The kitchen is well outfitted for all your cooking needs. Also the outside shower was used daily for after surfing and hot tubs. Our 14 week golden puppy also had a few showers after hours running, swimming and surfing on Chesterman Beach. Then it was wonderful to come in and warm up in front of the fire.
Thanks Chris for all your vacation rentals. They are all awesome. I highly recommend them.
Mar 31, 2016
We rented the Bayview House over spring break. We were a group of 6 ladies celebrating our 60th birthday year after being friends since grade 1 and 2. The house and weather were both perfect. Private but close to everything. We walked until we dropped! We cooked, drank and played games. Enjoyed the hot tub multiple times. We had so much fun playing pool as this was something we did as children as well.Thank you for the perfect get away.
Aug 25, 2015
August 16-23, 2015
Our family enjoyed a WONDERFUL week in this beautiful BayView House. The accommodations were perfect for 3 couples and two granddaughters. The pool-table was a huge hit, as were the kayaks and paddle-boards. The kitchen was well-equipped for shared cooking, meals, etc. And the scenery from the house is spectacular: mountains in the background, with small islands across the bay. A perfect rental house / location for our family of 2 adult children & their spouses, plus two teenaged granddaughters! There's lots to do in Tofino, but also lots of time to slow down and enjoy the surrounding natural beauty.
Jul 29, 2015
Amazing Family Vacation
We had a wonderful long weekend at the bay view house. We were 7 adults and a toddler and we all had more than enough space to relax and enjoy the surroundings. The location is the perfect distance from the madness of town and the beaches to feel that you have your own space but are close enough to the action to enjoy it.

Even though there was a bit of rain while we were there, we were able to enjoy the outdoor amenities including the kayaks, hot tub and fire pit.

It was a memorable trip and we hope to be back soon.
Apr 1, 2015
Amazing...
This property is AMAZING... Four private bedrooms with full bathrooms--ok- one tub in largest room but the other three have huge showers-- perfect!

The set up with large modern kitchen on main and a huge living room, with pool table- on second floor to make use of the great views-- affords space to be together yet still provides the room for some privacy.

Hot tub, wood sauna ( start the fire hours before you plan to use it...) and a great assortment of water sport equipment makes this property well rounded and a notch above all others...

I am torn--recommending this location means I may have to compete for rental space down the road but simply could not miss the chance to tell everyone what a jewel of a place this is!
Nov 20, 2014
Couples Retreat
Beautifully built and furnished home with views from every window. In-floor heating was a bonus.
The home is equipped with all the necessities for a great stay - we made use of the fireplaces, hot tub, pool table and barbecue. There's a lovely walkway and path out to the water's edge, where early morning and late afternoon views were awe inspiring. This was a perfect place for four couples to reconnect with each other.
Thanks for a great stay - we all wished we could have stayed longer!
Nov 12, 2014
10/10
BayView House is a real gem!!! Absolutely stunning with and incredible view! You have everything you need and more! Peaceful and tranquil surroundings :-)) it was paradise :-)) it was ideal for 4 couples, each with their own bathroom! We can't wait to come back!!!
Nov 12, 2014
10/10
BayView House is a real gem!!! Absolutely stunning with and incredible view! You have everything you need and more! Peaceful and tranquil surroundings :-)) it was paradise :-)) it was ideal for 4 couples, each with their own bathroom! We can't wait to come back!!!