Luxury custom built cedar vacation rental home on the waterfront with panoramic views of Jensen's Bay and only minutes from the surf of Chesterman Beach.
---
This luxury west coast vacation rental home features 4 spacious bedrooms, 2 with ensuite bathrooms. Full bathroom on the 2nd floor plus a powder room on the main floor. There are 2 king size and 2 queen size beds. Each bedroom with spectacular views of Jensen's Bay. After a day on the beach, unwind in the private hot tub or join your friends and family around the fire pit. This spacious, comfortable vacation rental home will be a luxury retreat for your home away from home visit to Tofino.
NOT available for "Special Events" (Weddings, Receptions, Parties, Stags, Stag(ettes), Reunions etc.) – see our Rental Policies
---
All rooms facing the waterfront with amazing view of Jensen's Bay (3400 sq. ft.)
4 bedroom cedar vacation home – 2 king and 2 queen (2 with outside deck access)
4 bathrooms – custom tile & pebble showers, soaker tubs (2 en-suite bathrooms-main floor, 1 bathroom-2nd floor, powder room on the main floor )
Heated radiant floors throughout the house
Sleeps 8
Gas Fireplace in the main floor Master Bedroom and Fireplace in the Living Room (uses fire logs only)
BBQ
Cedar decks
Cable TV in living room, kitchen and all 4 bedrooms
Wireless Internet
Hot tub overlooking Jensen's Bay (Hot tub towels provided. Please bring your own beach towels)
Fire Pit (firewood not supplied)
Full kitchen – Viking Gas Stove, Bosch appliances, Soapstone countertops
Large Laundry room – washer/dryer
Forested lot (.63 acre) on the waterfront (Jensen's Bay)
Outdoor shower
Spectacular views of Jensen`s Bay
Watersport equipment for guest use (on site). (Paddleboards & Kayaks)   Click here for more info
Tofino Tide Tables (printable version)
NOT AVAILABLE for "Special Events" – see our Rental Policies
Location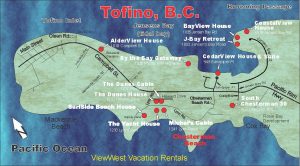 1019 Jensen's Bay Road, Tofino, BC
Get directions here using Google Maps
---
If you have any difficulties with your Online Booking, please call us to book toll-free at 1-888-448-4141
A 50% deposit is taken at the time of booking. The full balance is due 30 days prior to your arrival date.
If your reservation is within 30 days of your arrival date the full amount is due when booking.
Please review our Rental Policies prior to booking. A $225.00 cleaning fee will apply to all reservations.
We accept Visa and MasterCard.


Book the CoastalView House
---
CHECK AVAILABILITY AT ALL OF OUR RENTAL HOMES
---
---
GUEST REVIEWS
Average rating:
15 reviews
Nov 29, 2017
We booked in again this year a for a shorter time than we had wished. Next time we will plan further in advance. The weather and accommodations were perfect. Everything you need or ask for seams to be there . The support staff can answer your every question or put you in touch with a vast array of services in the Tofino area.The house surroundings are spectacular...
Jan 25, 2017
January 2017 we spent the weekend at this home to have Christmas with all our family together. It was absolutely perfect. The home is a beautiful compliment to the stunning scenery. Every amenity was provided for us and our stay was wonderfully relaxing. My only disappointment was that we had not booked for a longer period of time. Will definitely come back again.
Oct 8, 2016
My mom turned 70 and we needed a place on the island that could hold 3 families. Coastal view was perfect. there was something for all generations. Paddle boarding and kayaking for the the teenagers, hot tub for kid and amazing views and wood burning fireplace for the seniors. the views were amazing and the house with all its windows showed them off in every room with out exception. the dining area was roomy and allowed us all to sit with tons of elbow room.The showers alone deserve comment. multiple heads, spacious and so decadent!our stay was great and to be expected it did rain a lot but we fit the fun in the breaks and the house was so cozy.Jim was awesome and so responsive bring us more firewood and answering our questions. A lovely host.We will be back!
Sep 1, 2016
Our family stayed in this wonderful home for a week Aug 19th-26th. Ages 5yrs to 69 years old, everyone enjoyed the time. This house has a expansive common area with a fabulous view of the water (mud flats) lovely at any time. We used the stand up board & kayaks so had to time this with the tide....was no problem and it showed the children the big tides. The only problem we had was the TV which our young adults figured out, TV was not what we went for but nice for the evenings. The weather was fantastic, the young adult surfed, we hiked, grandchildren played in sand & water...... the holiday was great. The house was very welcoming to come back to especially with the hot tub.The guys went finishing out of Tofino and caught tons of halibut & salmon, they were happy, happy. We will plan to return.
Sep 1, 2016
Coastal View is stupendous. It's spacious, beautiful and well equipped. The location on the edge of the estuary is stunning with breath taking views. Sitting on the deck with a beer as the sun set was totally relaxing. Our group of 7 included 2 teenagers, 1 20 year old and 4 adults and there was plenty of space for us all to spread out and enjoy the relaxing environment. The deck and fire pit by the waters edge provided another lovely spot to relax and watch mother nature at her best. I only have two negatives to mention. It wasn't made clear the bay was tidal which meant you could only make use of the kayaks at high tide, would have been nice to know in advance. Second the Internet service is limited to 30Mb with a note in the welcome pack about not streaming content because of the Shaw service limitations. With 2 teenagers and a 20 year old wanting to connect in the evenings this posed a bit of a potential problem. As the house can accommodate 8 plus people an upgrade would be a good idea.If you are looking for a beautiful, well equipped and spacious location in the Tofino area then I would recommend Coastal View.
Aug 26, 2016
My extended family stayed at the Coastal View House in late July, and we really enjoyed our stay there. When we arrived the kids ran in first and ran back out exclaiming "It's a mansion!", which nicely sums up the opulence of the place. We enjoyed the comfortable beds, the luxurious bathrooms, the relaxed living room and the well-appointed kitchen, and we made good use of the decks and hot tub, and the fire pit on the dock. The hot tub was very popular - we had temperatures in the low twenties celsius during our stay - and it took the edge off any chills.You have to figure out the tides to make the most of the bay and the kayaks, since the bay turns into a mud-flat at low tide. There's no seaweed smell and it's very scenic no matter whether the tide is in our out, but you have to plan your days around when the water is in if the kayaks are part of the reason you visit.When we weren't on the bay or in the hot tub we enjoyed walking beautiful Chesterman's Beach and shopping in Tofino itself. Ucluelet has a beautiful rocky point around the lighthouse too, so there's plenty to see in the area. When you're not out and about, the house provides generous space to use the fireplace and to pull out the board games and cards.When we arrived we found no firewood, but Jim and their employees took care of this within an hour. Our only difficulty was with the living room TV and one other one, which even our tech-savvy teenagers couldn't make work. They worked fine in two other bedrooms though, so we simply made do rather than bother Jim again. It's a minor quibble, but worth taking care of so that the house lives up to all expectations. Once this is fixed I would say that everything is fantastic about this place.
Aug 24, 2016
The house is truly magnificent. We wished we could have stayed longer. I think two things should be clarified in the descriptions. First, the two upstairs bedrooms are much smaller than the two main floor bedrooms. I would not describe them as "spacious" as they are advertised. Second, clarify for new visitors that the kayaks and paddleboards are only usable for 2-3 hours/day around high tide.
Jul 23, 2016
My husband and I and our 6 adult children just spent an amazing 6 days in the Coastal View House on Jensen's Bay. We have booked through VRBO several times over the past years and were quite prepared to find things 'not quite as advertised' upon our arrival. What we were not expecting was to find that everything about the house and our experience on Jensen's Bay completely exceeded any- and all- expectations we had. The house itself is stunning. If you think something might be missing, you just haven't look in the right drawer or cupboard yet. The beds are incredibly comfortable-something we have found to be rare for vacation travel. In the past, we have stayed on the ocean while in Tofino with the family, and we wondered if staying on the Bay would be a disappointment for them. Any of those concerns disappeared about 2 hours after we arrived. The view from the back deck across the Bay was absolutely breathtaking-particularly at sunset. In the morning at low tide we were able to watch a bear across the flat looking for food. We kayaked from the dock at high tide and at night enjoyed a fire in the fire pit down by the water, then finished our evenings off in the hot tub. Chesterman Beach is a very short walk/drive away, so when we wanted 'ocean time' we had that within minutes as well. I had a few questions shortly after we arrived and Jim answered them within minutes of me sending an email. We thoroughly enjoyed our stay in the Coastal View House and would not hesitate for a moment to highly recommend it. Thanks for an absolutely amazing vacation!
Jul 22, 2016
We had a family gathering at the Coastal View house in May...it is spectacular. Roomy, well equipped, great location, many amenities and very nicely furnished. Highly recommended for anyone looking for a get away in Tofino.
Jul 15, 2016
Great house! Perfect space for entertaining. Bedrooms are beautiful, hot tub was great and using the paddles boards on the inlet was awesome. Highly recommended.