Beautiful cedar vacation rental home in Tofino with hot tub, only minutes from Tofino and a short drive to Chesterman Beach.
NOT available for "Special Events" (Weddings, Receptions, Parties, Stags, Stag(ettes), Reunions etc.) – see our Rental Policies
---
Barbecue
3 bedroom cedar vacation home
Cedar deck and boardwalk to the hot tub
Cable TV/DVD
Wireless Internet
Queen Size Beds
Hot Tub (Hot tub towels provided. Please bring your own beach towels)
Full Kitchen
Cedar Deck
Not available for "Special Events" – see our Rental Policies
Location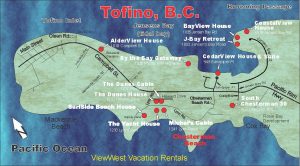 1018 Campbell Street (Pacific Rim Highway), Tofino, BC
Get directions here using Google Maps
---
If you have any difficulties with your Online Booking, please call us to book toll-free at 1-888-448-4141
A 50% deposit is taken at the time of booking. The full balance is due 30 days prior to your arrival date.
If your reservation is within 30 days of your arrival date the full amount is due when booking.
Please review our Rental Policies prior to booking. A $175.00 cleaning fee will apply to all reservations.
We accept Visa and MasterCard.


Book the AlderView House
---
CHECK AVAILABILITY AT ALL OF OUR RENTAL HOMES
---
---
GUEST REVIEWS
Average rating:
6 reviews
Dec 8, 2016
We stayed at AlderView house for 2 nights in late November and it turned out to be one of the best, if not THE best vacation rental I ever made, and I've traveled the world from south America to all corners of Europe and US. The place was very clean, and very specious. It has to be one of the biggest let downs of most vacation rentals is how tiny they are, not this place. You can actually come in to the house with your bags place them down and still move around, same goes for the kitchen and rooms. I did not have any interaction with the hosts other than booking the place through the website, which is how I like it, I like to for at least the weekend imagine that that could be my own place and not having someone explain to me how to turn on the BBQ. Would highly recommend this place to anyone looking to stay in Tofino.
Sep 12, 2016
We stayed at AlderView house for 5 nights -- and have nothing but great memories to pass on! Very suitable for 2 or 3 couples, and all the amenities are great. The surrounding trees are majestic, and the hot tub was relaxing and rejuvenating.We interacted with both Jim and Chris Grice, and these experiences were helpful and fun -- they are both warm and efficient hosts!We also went out with Chris on his boat, and enjoyed all the beauty of the ocean, enhanced by his expertise - highly recommended! We caught salmon, saw sea lions and whales, and experienced a bit of the charm of being on the water off Tofino.Would definitely do this adventure again.
Sep 5, 2016
This was a home away from home, very quiet, comfortable and a cozy setting. There were six of us in total, four being teenagers, and there was room for everyone. The proximity to town, made it easy for the kids to bike or longboard there on their own, and it was about a fifteen minute walk to get to Mackenzie beach which my husband and I did on a regular basis, to enjoy the sunset. The ammenities in the house were great, meal prep was easily done with all the essential utensils in the kitchen and the hot tub was a hit, with everyone. Would recommend this home, to anyone looking for a house in Tofino.
Apr 11, 2016
We had a wonderful vacation at AlderView. It was my husband and our two daughters (4 and 2), and my Mom and Stepdad. AlderView had everything we needed, the hottub was amazing (and in such a great setting), and we loved Tofino and the area. I'd definitely recommend this great house. The girls loved the spiral staircases and we were close to everything. Thanks for a great stay!
Apr 6, 2014
What a fantastic stay we had.
My family (2 daughters age 10 and 12, and my wife) had a great time at Alderview. It was our first time to Tofino as a family and we found the house to be very central. Halfway between town and Chestermans Beach it was a short drive to either. The girls and I took a surf lesson from Surf Sisters which was excellent value and surprisingly warm even though the air temperature was only 8 degrees. We also chartered a trip with Chris which was also excellent value. We tried to see some whales but unfortunately there were not many in the area while we were there. There was a couple of sightings and we went to the area that they were but they remained hidden to us. The great thing about doing a trip with Chris is that we went and saw some Seal Lions, caught a few fish, and did some crabbing during the same trip. We got a little bit of everything a trip on the ocean could be. The house itself was great. Comfy beds, great kitchen, and awesome hot tub. The spiral staircase to the loft Bay 101, 6303 30th Street SE is a long way up and so you did not want to forget something you needed. Not fir super young kids because if the spiral stairs. Overall our best vacation with lots of adventure, excitement and rest as well. Thanks for a great home away from home.
Dec 7, 2013
Fantastic Vacation in Tofino
We had a wonderful time in this perfectly appointed house. Five adults enjoyed the comfort and well built nature of the home; the only (minor) drawback was the loft bedroom doesn't have a door...so noise drifts up and they didn't have a sense of privacy. The owners have thought of every possible amenity. I've stayed in many vacation homes, but never one with all the comforts of home. The owners / caretakers were so helpful and considerate. We went fishing with Chris, he recommended restaurants, shops, hikes, spots for bear sightings, basically answered any question we had. My friends and I decided we were certain to return to Tofino and will only stay at a property managed by this family. LOVED the hot tub!